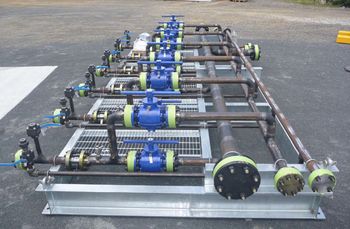 Oil and gas manifolds divert oil or gas, without flow interruption, from the separator to the crude oil burner for disposal, to the surge tank or gauge tank for measurements or storage, or to a production line.
In a gathering system, a pipe arrangement that connects flowlines from several wellheads into a single gathering line. A header has production and testing valves to control the flow of each well, thus directing the produced fluids to production or testing vessels. Individual gas/oil ratios and well production rates of oil, gas and water can be assigned by opening and closing selected valves in a header and using individual metering equipment or separators.
Fabrication:
We can design and fabricate customer manifold headers in accordance with specifications and unique product requirements.