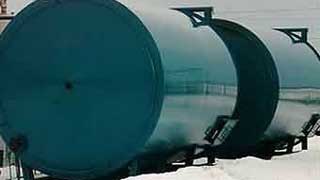 FABRICATION:
Our surface production tanks meet API – 12F Standards and can be supplied in a range of sizes and with a variety of appurtenances, including, but not limited to:
100 BBL through 400 BBL Capacities

Heating Coils

Fire Tubes c/w Flash Arrestor and Stack

Access Ladders

Platforms and Skids

Instrumentation

Internal and External Coatings
We can also supply Underground Storage Tanks to meet customer specifications.
API 12F Storage Tanks
Strict quality control assures that each tank is manufactured with A-36 (commercial quality) 3/16 and 1/4 inch steel. Tanks are interior and exterior welded to API specifications and pressure tested. This specification is designed to provide the oil production industry with tanks of adequate safety and reasonable economy for use in the storage of crude petroleum and other commonly stored and handled liquids. It covers material, design, fabrication and testing requirements for shop-fabricated vertical, cylindrical, above ground, closed top, welded steel storage tanks in various standard sizes and capacities for internal pressures approximately atmospheric. API12F Storage Tanks are the industry standard for oil field compatibility and construction.